6 outstanding restaurants to visit in Hamilton
If you are visiting Hamilton, not only will you be able to enjoy the welcoming culture and population, but also the excellent food. Here is my selection of restaurants that you can't miss!
Berkeley North
This West Coast-inspired restaurant is located on historic King William Street in the heart of downtown Hamilton. Berkeley North is the go-to spot for a quick bite to eat, weekend late-night cocktails, celebrating a special occasion or hosting a private party. It has a young and passionate culinary team that follows no scripts or rules when creating vibrant and unique dishes. A unique experience!
HAMBRGR
The concept of this restaurant is simplicity, and their burgers are no exception. Here you'll get the perfect combination of locally sourced ingredients, a wide selection of craft beer, culinary artistry, and of course, one of the most memorable experiences one can muster in the enriching restaurant culture sweeping over Hamilton.
Quatrefoil
Quatrefoil Restaurant is the most sophisticated option in today's selections. It offers fine dining in downtown Dundas, Ontario. Chefs Fraser Macfarlane and Georgina Mitropoulos find inspiration in the best local products to create superb seasonal menus. They use local ingredients to create contemporary French cuisine in a sophisticated environment.
Brothers Grimm Bistro
Brother Grimm Bistro offers an amazing culinary experience with its amazing recipes, presentation, flavours and ingredients. The place offers great cocktails and a wide selection of European cuisine in a cozy and elegant environment. This is proof that you don't need to go that far to enjoy an amazing dining experience!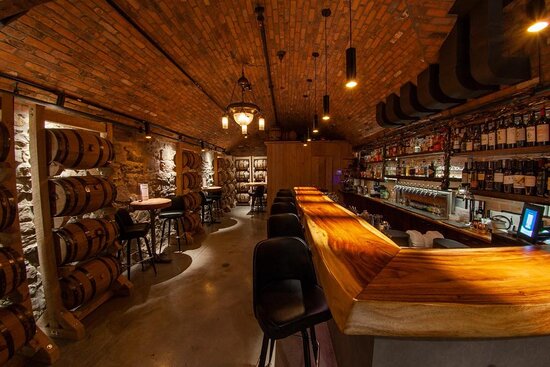 Caribbean Canadian Fast Food
If you're looking for Caribbean food, no doubt Caribbean Canadian Fast Food is the best choice. This place has been captivating its diners for years with its Caribbean and Jamaican food options; it also has vegan, vegetarian and gluten-free options. If you dare to visit them, I recommend their signature dish Special Chow Mein, which is a favourite of many.
541 | Eatery & Exchange
We close this selection with a café that not only stands out for its delicious food and drinks, but also for its philosophy. 541 is a café rooted in the belief that everyone deserves access to good food. That's why they have a program where they create opportunities for people to help others pay for their meals by "buying buttons". This undoubtedly adds points to this excellent place.